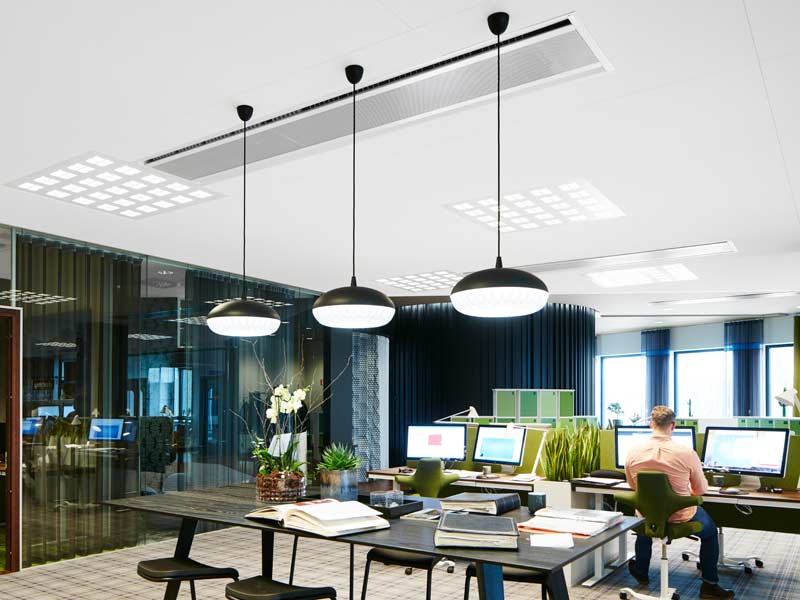 BEYOND is a unique corporate accelerator, where several major companies share the same environment and apply lean startup methods to find new business models and products. Ecophon is a new member of the accelerator together with Inwido AB. 
BEYOND is a collaboration between RISE (Research Institutes of Sweden) and Ideon Open. The goal is to help companies develop their business beyond the company's existing business structures.
"I am thrilled and very proud that Saint-Gobain Ecophon joins BEYOND at Ideon Science Park in Lund from mid-October as part of our Sound Pilots initiative which approaches innovation from a wider perspective," says Francois Michel, President, Ecophon Group.  "The origins of groundbreaking innovations are never just in the technology itself and within BEYOND we will have the opportunity to accelerate our pace of innovation and work with skilled people who have extensive entrepreneurial experience and widespread networks. Together, we will form an exciting environment for agile development, entrepreneurship and new business opportunities. All with the aim of making a difference and improving lives," Francois concludes.
"I'm really looking forward for the collaboration with Saint-Gobain Ecophon in BEYOND," says Erik Ronne, Vice President Innovation at RISE. "It will be a success story to combine the lean startup methodology in an agile environment as Ideon Open with the power of a large technical institute as RISE. Together we will cut lead times in the innovation process and contribute to more radical innovation."
Companies can place one or more development projects in BEYOND for up to twelve months. The teams collaborate together at Ideon Science Park in Lund, where they work with innovation specialists from RISE and Ideon Open. They also get tailor-made support for each team and can participate in joint activities and workshops such as IPR Strategy Flyover, Challenge Dojo, Customer Hearing and Tech Wiz Day as well as verifications such as Innovation Due Diligence and Translucent Innovation.
"We stand for the open entrepreneurial thinking," says Mats Dunmar, Head Coach for BEYOND and Manager at Ideon Open. "Large companies, unlike micro companies, tend to primarily think internally. We at Ideon Open work as an intermediary for companies by getting them to seek solutions and partners externally."
Find out more about BEYOND here
About Ecophon and the Saint-Gobain Group
Ecophon is the leading supplier of acoustic solutions, contributing to healthier indoor environments, improving quality of life, wellbeing and working performance. Today we spend 90% of our time indoors but our senses are adapted to outdoor life. Ecophon focus on bringing the ideal acoustic environments of nature into our modern indoor spaces – having a sound effect on people. The head office is located in Hyllinge, just outside Helsingborg, Sweden.
Ecophon is part of the Saint-Gobain Group, a world leader in sustainable habitat solutions. This is also one of the top 100 industrial groups in the world, constantly innovating to make living spaces more comfortable and cost-efficient. Saint-Gobain offer solutions to the major challenges of energy efficiency and environmental protection. No matter what new needs emerge in the habitat and construction markets, the future is made of Saint-Gobain.
For further questions, please contact:
At Ideon Open
Mats Dunmar, Manager Ideon Open
Phone: +46 735 120 422
Email: mats.dunmar@ideonopen.com
At RISE
Erik Ronne, RISE, Vice President Innovation at RISE Research Institutes of Sweden
Phone: +46 10 561 60 50
Email: erik.ronne@ri.se
At Ideon Science Park
Mia Rolf, CEO
Phone: +46 708 110 111
Email: mia.rolf@ideon.se