Success stories from ideon
PATENTS REGISTERED
SINCE 1983 IN THE PARK.
"We were one of the first companies that started at Ideon. Even now, when we have evolved into a global company with approximately 3,000 employees, it is important for us to remain where we have our roots. It is part of our culture and identity."
Ray Mauritsson, CEO Axis Communications
Axis is one of the largest employers in the south of Sweden. The company started in 1984 with support of Ideon Science Park and is now owned by Canon.
Founded in 1984

Invented the world's first network camera in 1996

3 000 employees worldwide
"The goal was to develop a phone that would fit into the breast pocket of a jacket or a shirt. For the first product launch, we had to special order shirts with extra large pockets."
Mats Lindoff, VP Product Development Mobile Phones, Ericsson 1985-2000
Ericsson was the first companies at Ideon Science Park in 1983 and what followed were groundbreaking innovations like the first Ericsson Mobile Phone and the development of Bluetooth. One of the first models, the HotLine Combi, weighed 4 kilograms and had a prize in the monetary value of today of 30,000 SEK. 
The development Bluetooth, was initiated in 1989 by Nils Rydbeck, CTO at Ericsson Mobile in Lund, Sweden and by Johan Ullman.
Founded in 1876, established at Ideon in 1983

The HotLine 900 Pocket was the first pocket sized phone launched in Sweden

362 million connected devices powered by Bluetooth were shipped in 2018
Tendo – for people, not symptoms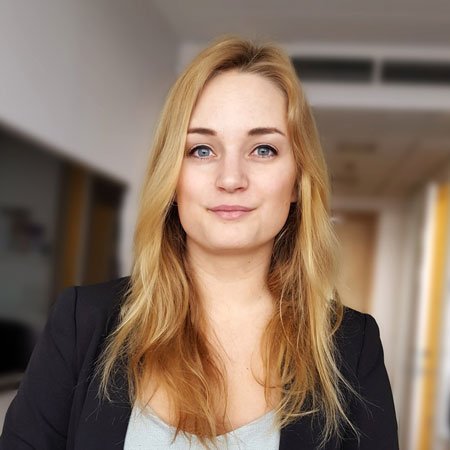 "Ideon is undoubtedly the best choice for us. Our work covers everything from medical technology, software development and AI to hardware with 3D printing and physical prototypes – finding a location that can support all areas is not easy. At Ideon we found a diverse network which, together with proximity to eg. Lund University, Mobile Heights Center and Medicon Village, created a perfect place for us."
Sofie Woge, CEO at Tendo
Tendo is a design driven Nordic company that develops robotic medical aid for people with gripping limitations. The first product is made to assist a person to grip, hold and release objects by pulling artificial tendon – like a puppeteer. It's specially made for people who struggles with everyday activities due to e.g. a stroke, spinal cord injury or arthritis.
"As we, as a company and above all our R & D department, are focusing more on digital solutions and agile methods, we sought to establish ourselves in a technology-intensive area. What could then be better than moving to Lund and Ideon with all the startups and scaleup companies within IoT and Electrical Engineering."
Pär Guthagen, Country Facility Manger Sweden, Schneider Electric
Schneider Electric has opened an Innovation Centre at Ideon, with the focus on innovation in energy efficiency and developing the smart cities of the future.
The motto is "innovation at every level" and so the office is also a living lab, using the platform EcoStruxure as well as the Building Management System StruxureWare and the fire alarm system FXL. 
"One of the main reasons we succeeded was the Android and iPhone and also people getting used to the subscription model thanks to Netflix and Spotify."
Jon Hauksson, co-founder Storytel
Storytel is a digital subscription service that streamlines audiobooks to your mobile phone and was founded in 2005 by Jonas Tellander and Jon Hauksson. 
Today, Storytel are the largest book service for audio books and e-books in the Nordics, with activities in Sweden, Denmark, Norway, Finland, the Netherlands and Poland. Storytel has also acquired several publishing houses, like Norstedts publishing group.
Founded in 2005, part of the Ideon Innovation Incubator Program

In 2018, the company launched their own reading tablet, Storytel Reader

Co-founder Jon Hauksson was one of our five mentors in the 2018 Mentorship Program for scaleups
Innovations developed in and around Ideon Science Park
Exciting up-and-coming Innovations in the Park